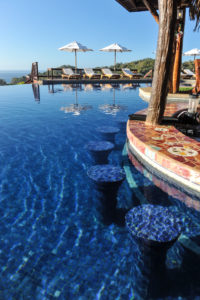 Picture this . . . tropical paradise, sunshine, warm water and a swim up bar. That's where my husband and I spent our vacation in Cancun years ago. Needless to say, it was wonderful and relaxing. So when it came time to build our pool I thought – I know – a swim up bar. However, the consensus was – Who Needs a Swim Up Bar? The water is too cold, you won't use it, etc. I agreed and for the first 6 years that we had our pool, it seemed like the right decision and then we made one of the best decisions of our lives . . . we bought solar for the pool! No please don't take this wrong, it's not a crummy commercial. CCC Pool Services doesn't sell solar and we don't have any deals with solar companies, I am just very passionate about how much that one decision has improved the enjoyment of our backyard.
I know it's expensive. After having two estimates done and deciding not to do it, we finally agreed to go ahead and I think it is the best money we have ever spent. As a family this summer, we all headed out to the pool at the end of the day to play with the dogs, fill each other in on our day and relax. I know it brought us closer as a family and our dogs, well they think it's awesome. The other advantage is the spa, we now use the solar to heat the spa so that it only takes a few minutes and a little heat to bring it up to temperature – every day – not just on your birthday or anniversary!
So my advice is if you are considering solar, go for it and maybe that swim up bar too while you are at it!
My next blog will even show you how CCC Pool Services can help you manage that solar from your smart phone or computer so your backyard is ready and waiting for you when you come home.
Enjoy, Terri